Speakers Wanted for November Online Conference
Submitted by

Amigos

on Thu, 2013-08-22 10:35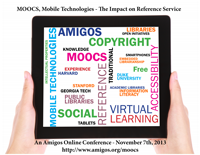 Amigos is looking for speakers for our November 7 online conference, "MOOCs, Mobile Technologies - Their Impact on Reference Service." Already scheduled to speak is Joe Murphy, international keynote speaker and author. Check out his website for more information.
Are you a reference librarian working on new reference solutions for your library? If so, we want you to share those experiences with your peers.
Topics can cover any area of Reference, MOOCs, or other mobile technologies in your library.
Sample topics include:
Reference mobile technology planning
MOOCs and the role of librarians
Digital solutions for Reference
Working with vendors
Embedded librarianship
Best practices
Lessons learned
Future Reference technology planning
Online events eliminate travel time by allowing you to present from the comfort of your office. Also, don't worry if you've never presented online; it's easy and we can train you.
If you can speak on one of the topics above or have another idea in mind, submit your proposal by clicking here. Deadline for proposals is September 8.